I'm not a lesbo. I'm straight. Ni pendapat aku jak lah. From a woman's point of view. Lalala~
1. Hana Tajima Simpson
Apasal dia nombor satu? Apasal nama dia pelik? Diam. Aku tidak susun ikut rating. Aku main hentam letak jak. Haha.
Siapa?

Baca ni. Malas mau tulis panjang-panjang.
Kenapa?

Suka tengok. Muka suci-suci gitu. Comel. Ada muka orang Jepun, muka orang British..(She's mix Japanese + British) Pastu ada muka macam kawan aku.... Sangat-sangat serupa! Hmm... sikit ja lah....
Pastu dia muslim. And dia suka berfesyen. Dan tak tutup aurat dengan betul........................ Tapi dia Muslim. And aku suka tengok dia. Cukup lah alasan tu. Ngehehehe~~
Uhm.. Ya.. Hmm.. Dia menjadi ikon fesyen di Malaysia. Kalau berjalan-jalan di bandar tu nampak lah ramai pengikut Cik Hana Tajima ni. Semua ikut style dia. Tudung selit sana, selit situ, selit ke belakang, ke depan, ke tengah (eh?).
Adakah aku akan ikut fesyen bertudung macam dia ni?
NOPE

. Kenapa?
Aku malas. Dahlah malas urus tudung, ni pula banyak kerja nak buat. Lagipun aku tak pandai pakai tudung camneh. And aku akan nampak pelik. Mwahaha~
2. Emma Watson
Siapa kata dia tidak hot? Aku tampar kang.
Siapa?

Siapa tidak kenal Emma Watson? The girl we watched grew up in front of our very eyes (metaphorically speaking). The girl who played Hermione Granger in the Harry Potter series. Alah. Yang muggle tu. Yang pandai gila tu. Masih tidak kenal? Ceh. Blah lah lu. *frust
Kenapa?

Aku suka dia sebab dia tidaklah banyak betul skandal dan buat hal semua benda tu. Terjaga orang dia. (ya ka? Bukan ada keluar gambar bogel dia di internet ka?)
Ehem. Walaupun dia pandai berlakon dan banyak buat duit, tapi dia tidak sia-siakan pelajaran dia. Bukan macam beberapa artis di sana tu. As long as the money keeps coming, there's no need to study.
3. Norah Jones
Siapa?

Penyanyi Jazz yang paling aku suka dengar.
Mak aku kata (aku malas rujuk Wikipedia.) Norah Jones ni mix Indian ngan American. Bapa dia suka menyanyi dan buat muzik, jadi dia pun ikut lah macam bapa dia. Mwahahaha
Kenapa?

A calm and soothing voice of hers makes me sleep feel better each and every time I hear her sing. Lagu dia pun best-best. Pastu cantik lagi orang dia. And lagi satu, orang ni bukan jenis suka heboh-hebohkan diri dia. Always remain in the dark. Macam aku. *perasan
4. Hailey Williams
Siapa?

Lead vocalist dalam Paramore. Suara power. Rambut merah. Nuff said baca jak ni.
Kenapa?

Suara dia best. Rock. And she does not care about the Hype. She does her own things. Ok lah kan?
5. Amy lee
Siapa?

Lead vocalist Evanescence. Tak kenal? Baca ni. (Kemalasan melanda.......)
Kenapa?

Sama seperti Hayley Williams, suara Amy Lee pun mantap! Beza dia Hayley suara rock, Amy Lee pula macam....Soul sikit...Dark sikit....metal sikit.... Entah aku pun taktau beza kan suara based on genre ni. Main hentam ja. Yang aku tau suara dorang bukan calang-calang suara. Ce dengar sendiri. Bezakan. :)
6. Demi Lovato
Siapa?

Perempuan yang feymes dengan Jonas Brothers yang tiba-tiba kurang popular tu. Pelakon utama Camp Rock. Penyanyi yang sangat-sangat.....best suara. She just got out of Rehab not for drugs addiction, but because of some weight issues if I'm not mistaken.
Kenapa?

Again. Walaupun gambar tak senonoh dia pernah di upload ke internet, but I'm sure she was just playing around with her friends-who-can't-seem-to-keep-some-private-photos-to-themselves and she was just being playful. Perempuan. Biasalah. She made that ONE mistake. Overall she's ok. She's nice. At least she doesn't wear revealing clothes and starts writing songs about not being able to be tamed what not. *referring to Miley. Ehem2..
7. Oh Land
Siapa?

The coolest woman I've ever met. (Metaphorically speaking okeh) Baca ni dari Wikipedia yang tidak banyak info. Baca ni untuk info lagi mendalam. (I don't like my Bahasa Melayu writing........it's weird....)
Kenapa?

She sings GREAT, she writes MARVELOUS songs, and she dances LIKE NOTHING IN THE WORLD CAN STOP HER. Haha. Aku mula tertarik (I'm no lesbo) dengan dia bila first-first tengok video ni. Pelik semacam ja tarian dia. Tapi menarik. Kan? Kan? Kan?
Lagi satu. She doesn't care about the hype. She does her own thing jugak. Pastu setakat ni aku tak pernah dengar apa-apa skandal or kontroversi ala-ala Britney gitu.
8. Camille Belle
Siapa?

Pernah tengok 10,000 BC? When A Stranger Calls? She's an actress. And yea she does em acting that good. Who would ever thought prehistoric people would look that beautiful and worth looking at. Lalala~
Kenapa?

Dia comel. Aku suka. Lagipun my taste for women is almost the same as my brother. Weird? I think not. (I'm STILL no lesbo)
9. Nicki Minaj
Siapa?

Perempuan berbadan kecik tapi besar (if U know what I mean) yang gila macam Lady Gaga jugak. Bezanya Nicki Minaj ni comel and Lady Gaga is just....plain freaky.. U guys might know her as the black girl (am I being racist? =( ) that has pink hair. Yes, PINK hair.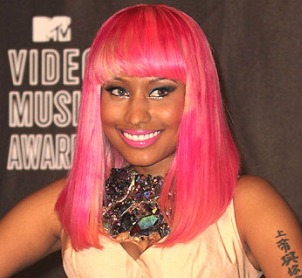 Kenapa?

Aku suka suara dia dan dengar lagu dia. (Tapi aku geli tengok music video dia....)
Dengar jak.. Xyah cari music video dia... tambah dosa lak nanti bulan Ramadhan ni. =p
10. Clara C
Siapa?

An Asian (Korean to be exact) Youtube sensation yang semakin popular sebab bijak mengendalikan alat-alat muzik dengan berjayanya. (Hahaha bahasa melayu FAIL)
Kenapa?

A true musician. Comel. Ok dia pandai main alat-alat muzik. Piano, violin, xylophone, gitar, drum, semuanya!
Pastu dia pandai buat cover lagu artis-artis lain tapi bukan macam lagu original. Faham ka?
And she's no poser.
11.

Jocelyn Wildenstein (hehe...)
Siapa?
Perempuan paling feymes sebab muka dia sampai diberi gelaran 'Bride of Frankenstein'.
Kenapa?
Aku rasa dia ni sebenarnya sangat-sangat in love dengan hubby dia. Sanggup go under the knife sebab takut suami dia lari dengan
betina
perempuan lain. Tapi dia silap konsep sebenarnya. Dia ubah muka pulak. Bukan ubah perangai ka apa.
But I salute her willingness to change for the man she loves. Walaupun perbuatan tu agak kurang bijak................but still.
Baca ni.
Ok! Done!
Picture credits to Google Images. Vids, well, Youtube of course!